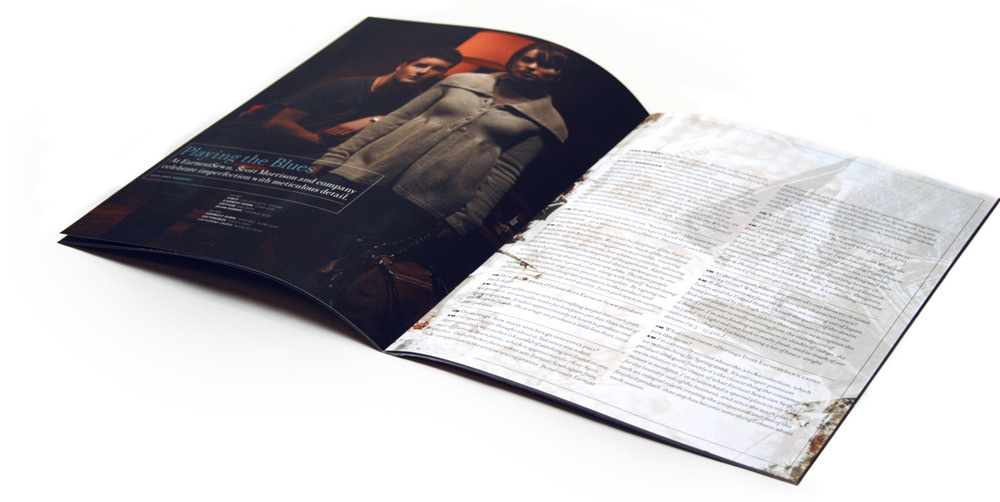 "Playing the Blues"
Earnest Sewn Interview
Mario's Magazine
Jake Murray (JM)

Given its origins, denim is an inherently democratic material. How does this inform your designs, and your approach to jeans in general?


Earnest Sewn (ES)

I have always been drawn to American history and the heritage denim represents. I am fascinated by how this fabric has emerged from its earliest workwear roots into a fashion staple that crosses all economic and social boundaries. As an example, denim is acceptable in every aspect of our daily lives, from manual labor to cocktail parties, and is truly the most all-encompassing fabric of this century. At Earnest Sewn we believe in not being too trend-driven as a brand, and staying committed to the classic 5 pocket aesthetic, however for Fall 07 we expanded our fashion program to include styles like a the Whiley high-waisted trouser, and the Maya high-waisted tailored pencil skirt to include denim's new place in a dressier setting.
JM

Bespoke tailors use the term "handlings"—the number of times that a garment meets an expert hand throughout its creation—as a measure of excellence. Do your jeans have a similar standard?
 

ES

Yes, handcraftsmanship is at the forefront of the Earnest Sewn and AEC&S concept. We avoid as much of the standard assembly line manufacturing process as possible, reserving some operations to specialists, but wherever possible, allowing one sewer to complete the majority of the garment. Additionally, the wash process incorporates hand-drawn techniques by one artisan, ensuring that no two pair are alike. The three people overseeing each pair's production, along with myself, hand stamp the jean after each step of the process is complete. By signing our names we are committing our reputation to the product and validating its authenticity and quality. Every pair sewn in earnest.


JM

How many pairs of jeans does Earnest Sewn produce each day?


ES

Because of the extra care and crafting we put into each jean we produce, we actually make far less jeans per day than most of our competitors. It takes approximately 18 hours to produce one pair start to finish. On average we produce a little less than 1000 pair per day.


JM

On average, how many stitches go into every pair?


ES

I've never really thought about it, but since you asked. Approximately 650 inches (18 yards) of stitching are found on one pair of Earnest Sewn jeans, which is approximately 7800-8400 stitches. One of the key factors that sets Earnest Sewn apart from our competitors is the unique sewing process. In our main Earnest Sewn line there are about 11 to 12 stitches per inch, making it one of the highest stitch counts in the industry. For Spring 08, we are launching an even more specialized product line under the label 'AEC&S'. This ultra premium men's collection will incorporate an even higher SPI, with 15 to 16 stitches per inch, most likely making it the highest in the industry.
JM

Wabi-sabi is of course an important part of Earnest Sewn's hand-crafted ethic.  How and when did you first become interested in the tradition?
ES

I'd venture to say that my first experiences with Wabi-sabi date back to my first visits to Japan. I was traveling to Japan about 3-4 times per year while running/designing Paper Denim & Cloth. I knew a little bit about the Japanese tea ceremony, and a decent amount about Japanese woodworking and their cultural appreciation for finding and idealizing beauty in imperfection. But about a month before we launched Earnest Sewn I came across the book Wabi-Sabi: for Artists, Designers, Poets & Philosophers by Leonard Koren. It's something everyone should read if they can get their hands on it ...


JM

At the moment, where are some of your favorite denims coming from? What are their unique characteristics?


ES

At the moment my favorite denims are coming out of Japan, Turkey and the United States. Overall the quality of the denim being produced by the high-end mills continues to amaze me. And their ability to recreate fabrics that enable us to capture the look of yesteryear is really exciting from the standpoint of a designer. I'm also finding uniqueness in shades of indigo, the 60's and 70's light red cast look is really fresh, and to much of our sales team's chagrin I've been eyeing a lot of heavy weight denims (14.5 - 15.5 oz.).
JM

Denim aside, are there other designers or craftspeople whose work you admire?
ES

Aside from designing jeans I have two pretty serious passions.  One is furniture design, and the other is interior design and architecture. A couple of my favorites in furniture are Jonah Meyer (a local craftsman from Woodstock) and a designer named David Trubridge (from New Zealand). In Architecture, I have always been inspired by the creations of Tado Ando and Richard Neutra, to name a couple.  


JM

What imminent offerings from Earnest Sewn excite you the most?
 

ES

I'm extremely excited about the AEC&S collection, which we're launching for Spring 2008. It's our super-premium product and quite frankly it's the closest thing the consumer will see in relation to my vision of what Earnest Sewn can be if money is no object. I've always had a special place in my heart for the laundry side of the business, and since the wash plays such an integral role in creating the uniqueness and feel of the finished product, that step has become something I obsess about each season.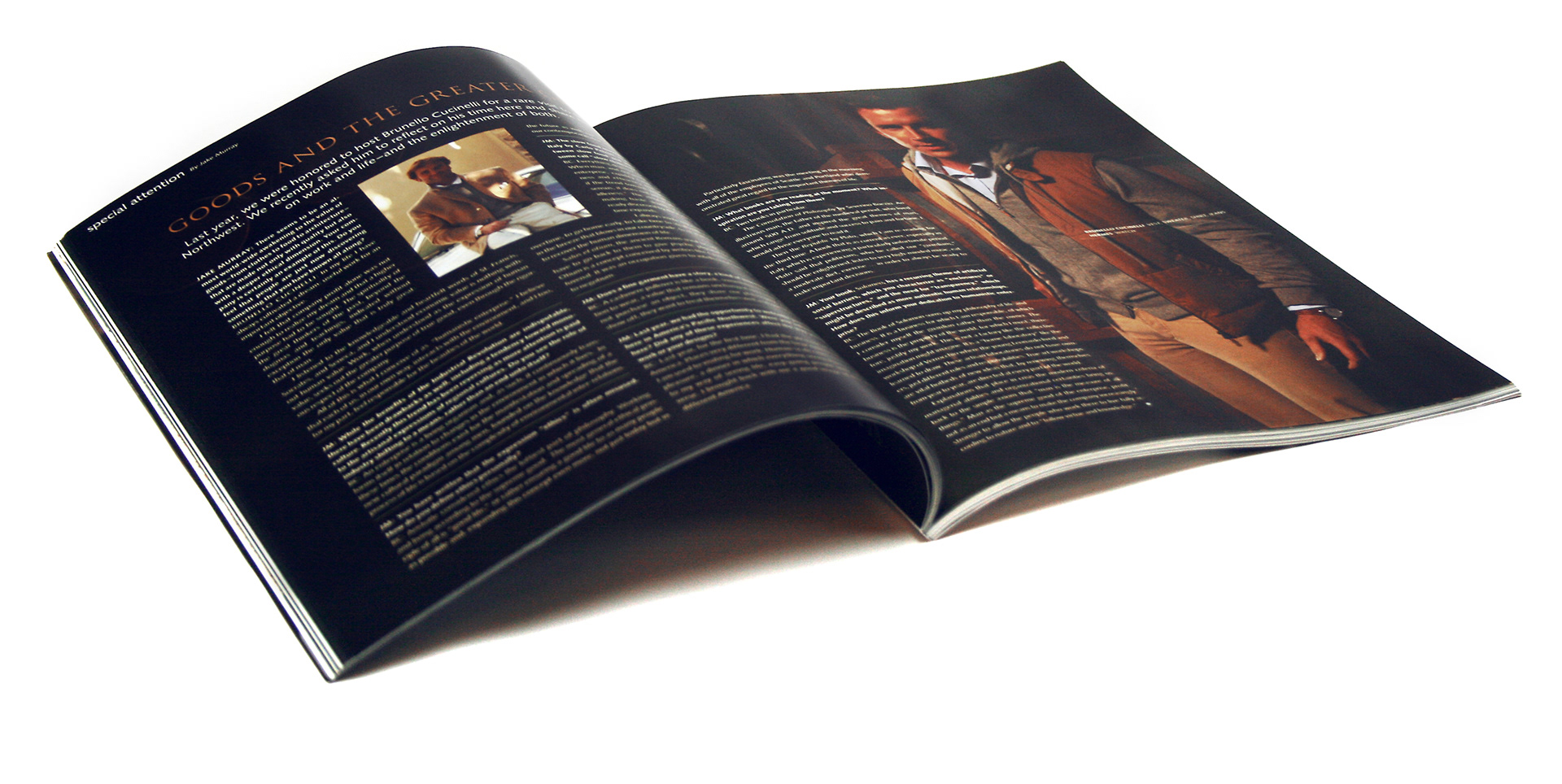 "Goods and the Greater Good"
Brunello Cucinelli Interview
Mario's Magazine
Last year, we were honored to host Brunello Cucinelli for a rare visit to the Pacific Northwest. We recently asked him to reflect on his time here and share his thoughts on work and life—and the enlightenment of both.
Jake Murray (JM)

There seems to be an almost world-wide awakening to the value of goods--from clothes to food to architecture--that are made not only with quality but also with a deeper ethical dimension. Your company is certainly an example of this. Do you feel that people are just now discovering something that you have known all along?
Brunello Cucinelli (BC)
In my life I have always cultivated a dream: useful work for an important objective.
I felt that company profit alone was not enough to realize my dream and that a higher purpose had to be sought. The spirituality of the great thinkers of the past, beyond the dogmas and teachings, indicated without exception the only value that is truly great: that of man.
I listened to the knowledgeable and heartfelt words of St. Francis, Socrates, and Seneca, and I understood economic value is nothing without human value. Work, when understood as the expression of human value, seeks out the greater purpose of true good, even through the rigorous respect of the company.
All of this is what I conceive of as  "humanistic enterprise." I believe that each of us, in our own way, interacts with the environment, and I too, for my part, feel responsible for the beauties of the world.
While the benefits of the Industrial Revolution are indisputable, there have been drawbacks as well, including a tendency toward monoculture. Recently this trend has been reversing as more attention is paid to the artisanal expressions of regional cultures. Do you see the role of industry shifting to a means, rather than an end unto itself?
An enterprise is a living organism and, as such, it continuously transforms itself in relation to changes in the environment in which it lives.  In these times the conditions exist for the manifestation and spreading of a new cultural paradigm among men, founded on the knowledge that the process of life is based on the complexity of environmental inter-relations.
JM

You have written that the expression "ethics" is often misused. How do you define ethics personally?
BC

Aristotle considered ethics the loftiest part of philosophy. Working and living according to the supreme good.  The most general ethical principle of all is "good life," or rather ensuring a good life to as many people as possible and, expanding this concept even more, not just today but in the future as well: not just the generation of our contemporaries but also our descendants.
The slow food movement was started in Italy by Carlo Petrini. Is there a parallel between slow food and your business, which some call "slow clothing?"
Everything depends on the scale of values. When man, and not profit, is at the heart of an enterprise, rapidity takes the place of quickness and efficiency the place of stress. But, if the trend toward slowness finds much consensus, it does not mean the return to "sweet idleness." The closest idea is "festina lente," making haste slowly, a concept that was already discussed by the Latins. By slowing down, time expands.
I always invite my employees to not work overtime, to go home early, to take time to stroll with their families, to take in the breeze that blows in our countryside, to chat in their neighbourhoods, to recover the human dimension of life.
Salus et otium, the ancient Romans used to say, and we would ideally have to go back to them to give psychic-physical health the right value. Otium is a concept conceived by writers like Cicero, Horatius, Martial, and Juvenal. It was an occupation given to intellectual speculation, in contrast to negotium.
JM

Does a fine garment have a story, a kind of inner life?
BC

A cashmere pullover is like a book, something to be cherished. A sensation to wear, a value that remains unchanged over time. Our customers do not purchase an object, they share our philosophy. They don't need to show off, they want to treat themselves well and give themselves the best.
Last year, we had the opportunity to welcome you for a personal visit here in America's Pacific Northwest. Were you influenced by your time here? Did any of these experiences affect the way you think about your work or your designs?
Last year, for the first time, I had the pleasure of visiting Northwest America. Places very different from the large American metropolises that I am used to visiting for work. Human-scale cities. I remember, with great pleasure, a dinner in which everything seemed very familiar and similar to my way of seeing life, easy-going people with whom one can converse. I brought back with me a good image of this part of America, a different America.
Particularly fascinating was the meeting in the morning with all of the employees of Seattle and Portland who demonstrated great regard for the important themes of life.
JM

What books are you reading at the moment? What inspiration are you taking from them?
BC

Two books in particular:
The Consolation of Philosophy by Severino Boezio. An illustrious man, the father of the medieval period, who lived around 500 A.D. and inspired the great themes of man, which range from solitude and success to pain and fortune. I would advise everyone to read it.
Then the Republic by Plato, which I am re-reading for the third time. A book that is as current as ever, especially in Italy, which is experiencing a particularly unfortunate period. Plato said that politicians, who he called our "guardians", should be enlightened, listen to very high-minded music, eat a moderate diet, exercise … in order to always be ready to make important decisions.
JM

Your book, Solomeo, has a recurring theme of artificial social barriers, which you characterize as "enclosures" or "superstructures," and the need for "transparency," which might be described as more authentic human relationships. How does this inform your dedication to humanistic enterprise?
BC

The Book of Solomon sums up my philosophy of life and business. It is a business for which I am responsible, of which I consider myself the guardian rather than the owner. The business is the property of the world, for which I must, therefore, justify my work. This is not a factory like the collective imagination might imagine. It is a "home-laboratory" like the workshop of Verrocchio where the young Leonardo lived and learned to draw. These artisan laboratories do not have owners, just different roles and responsibilities. True art workshops are vital hotbeds of new ideas that, by renewing themselves from year to year, are directed at every part of the world.
Explanations that place in crisis the modern criteria of managerial abilities and organizational certainties bring us back to the simple axiom that "man is the measure of all things." Man as the supreme good of the enterprise, profit not as an end but a means to make the company increasingly stronger to allow the people who work there to live fully according to nature and to "follow virtue and knowledge."